10 Tagalog Spoken Word Poetry You Should Listen To This 2017
When Juan Miguel Severo performed his spoken poetry piece in an episode of ABS-CBN's On the Wings of Love, I knew I would get sucked into a never ending whirlpool of more spoken word poetry on YouTube. And I did but I'm not complaining. This 2017, a year I would dedicate to all the sad and brokenhearted, I've decided I would share all my favorite Tagalog spoken word poetry videos on a blog post. It's okay, strong naman tayo 'di ba?
I had a professor tell me that in order to penetrate the Filipino audience, you have to perform in Tagalog. I didn't know why until I heard how beautiful our words were. Words we use every day would take another form in order for us to have a deeper kind of appreciation for their color and emotion. Our language is very specific and there would be emotions and visual imagery that could only be expressed by one word.
Spoken word poetry hails from various cultures' oral traditions. This form of art places emphasis on words through intonation and voice inflection, and sometimes hand gestures. So yeah, it's more than just that 22 Jump Street clip of Jonah Hill reciting his slam poetry called "Cynthia".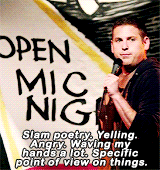 Here are some Tagalog spoken word poetry performances that really touched my soul. They're all good mixtures of great performance and heartfelt poetry. There's just something about Tagalog spoken word poetry that will reel you in fast. I also love how for every feeling you might be experiencing now, there will always be a poem or a piece for you. It makes you feel that you're not fighting this battle alone.
1. Ang Nag Iisa – Juan Miguel Severo
2. Sa Pagitan Ka Natagpuan – Maimai Cantillano
3. Yung Feeling Na Kayo Pero Parang Hindi – Jan William Chua
4. Naniniwala Ako – Juan Miguel Severo
5. Oras – Jhay Fernandez