5 Best Korean Skincare: Face Masks
It's easy to get lost in the world of Korean face masks. All popular Korean brands here in the Philippines would have some sort of line of inexpensive sheet masks you can easily buy for less than Php 80. You can buy them solo or in packs of 10. If you're in Korea, in packs of 20 or 30. Those can last you forever since it's recommended to apply a face mask on just once every week.
Most are made of commonly found ingredients like coffee or egg whites, each targeted to solve a specific skin problem. But there are just too many of them! So before grabbing one face mask off the counter, know what skin condition you're targeting and work from there. If you've bought too many, Korean face masks also make great gifts!
Still confused? We've made our own list of the 5 best Korean face masks for your skincare routine
1. The Face Shop – The Solution
Some people like putting their face masks in the refrigerator to get that cooling effect. But The Face Shop's The Solution Korean face masks already have the subtle cool and light feeling – perfect for summer! They also just stick on your face and don't slide down.
Koreadepart
2. banila co. It Radiant Lace Hydrogel Mask Sheets
This two-piece Korean face mask is from the brand with one of the best cleansing products in the market. It's made out of  a translucent hydrogel material and lace so as it helps your skin look more radient and fresh, it'll also make you look like you just wrapped your whole face in expensive white lace.
Qoo10
3. too cool for school Pumpkin 24K Gold Mask
The too cool for school Pumpkin 24K Gold Mask is a popular pick among Korean beauty and skincare lovers. This face mask has 24ct gold and pumpkin extract to revitalize stressed-out skin.
Pumpkin is also known to be rich in Vitamin A and C, helping in the skin's collagen and slowing visible signs of aging.
Sephora
4. Tonymoly Intense Care Snail Hydro-gel Mask
There was a time when snail essence was so popular in the Philippines that almost all Korean skincare brands were releasing numerous products with snail mucin in them. Tonymoly's Intense Care Snail Hydro-gel Mask is one of the best out there, soothing and brightening the skin right after you take it off.
Uniquely, its formula preps your face for better makeup application the next day.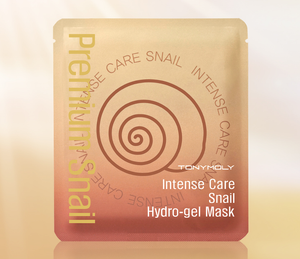 eBay
5. Tonymoly I'm Real
The Tonymoly I'm Real Korean face masks are cheap and easy to use. You can buy a whole load of them and not break the bank. The best part about these masks is that the line has 26 different kinds – ginseng, olive, charcoal, honey, peach, cherry blossom, lavender, calendula, green tea, lotus, rose, cactus, tomato, pomegranate, broccoli, lemon, pearl, rice, orange, tea tree, red wine, avocado, seaweed, aloe, makgeolli or rice wine, and pumpkin.
We're putting this in the list because of all the face masks brands are putting out there, this one has the most options for different skin concerns. It's also quite cheap, making them great for buying in bulk.
Ulta