How to Get Glass Skin: Top 10 Best Skincare Products
'Glass skin' is all about moisture. To get that glowy dewy finish everyone's proudly showing off nowadays, you have to pack your skin with lots of moisture and nutrients it needs to survive the scorching heat.
It's not enough carrying a pot of highlighter and a fan brush with you every day. Glass skin is meant to take care of your bare skin.
October of last year, an aspiring makeup artist based in Los Angeles posted a photo of her bare face – no blemishes, no hyper-pigmentation, just a natural dewy glow without face makeup. It seemed too good to be true. As the number retweets grew – and fast – Ellie Choi decided to share her skincare routine with her followers. She performs a multi-step skincare method and limits her makeup to just eye makeup, brows, and lip tint.
As soon as Ellie posted this, her routine went viral and went on to be published in international online magazines such as Allure and shortly after, Preview Philippines.
Korean beauty, both makeup and skincare, consistently focuses on creating and maintaining a dewy look. The bouncy-looking skin appears more youthful and healthier, compared to textured skin.
But the key to maintaining this glass skin look isn't through piles of foundation and numerous swipes of glittery highlighter. It's the care and effort you put on your skin as if you want to go days without even needing foundation.
To help you achieve that highly coveted glass skin look, here are the top 10 best skincare products you can use:
1. Cleanser: Neutrogena Fragrance-Free Makeup Remover Cleansing Towelettes
Never ever sleep with makeup on. If you don't wear makeup during the day, remember that the fine dust outside can also dirty up the skin so it's essential to cleanse and double cleanse once you get home. Ellie Choi uses the Neutrogena Fragrance-Free Makeup Remover Cleansing Towelettes to start off her glass skin skincare regimen.
Amazon
If you can't find this anywhere in the Philippines, one of my faves is the Sanicare Cleansing Wipes. I found that among the wipes I've tried, this one has a gentler texture to the tissue plus it smells amazing.
Babymama
2. Cleanser: CosRx Low pH Good Morning Gel Cleanser
After wiping off the makeup, cleanse your skin with a gentle low pH cleanser. A low pH cleanser ensures you're not stripping your skin off its natural moisture. This is why you should watch out for skincare products containing high levels of alcohol, as this will easily dehydrate your skin.
A good cleanser option is this one by CosRx – the CosRx Low pH Good Morning Gel Cleanser which you can pick up from online beauty stores like BeautyMNL.
Ulta
3. Exfoliator: Skinfood Black Sugar Mask Wash-Off in Strawberry
Every week, physically exfoliate this skin. This will keep your skin from getting flaky and also get rid of dead skin cells on the surface. This allows for a brighter and smoother looking skin.
This Skinfood Black Sugar Mask Wash-Off in Strawberry exfoliator is an OG Korean skincare product and it's still in production for good reasons. It's a gentle wash-off exfoliant that won't scratch or harm the skin. And it's Ellie Choi's own top pick too!
SoKo Glam
4. Exfoliator: NeoGen Bio-Peel Gauze Peeling Pads
Whether you prefer manual or chemical exfoliants, try out the NeoGen Bio-Peel Gauze Peeling Pads. It's one of the most highly recommended exfoliators in the Korean skincare world because of its skin brightening properties.
As SoKo Glam puts it, "Dead skin cells are sloughed off the surface of the skin using the unique 3 layer pad technology, as lactic acid penetrates deep into your pores to clean out pore-clogging debris."
SoKo Glam
5. Toner: HADA LABO Goku-jyun Light Lotion
It's time to leave the sink, finally. Many use the '7-skin' method which is applying 7 layers of toner so it moisturizes the skin inside and out. Although you do have to find the right toner so you don't end up dehydrating the skin. After all, our main goal here is to achieve a dewy glass skin look without makeup.
A classic light toner is from the Japanese brand HADA LABO – the HADA LABO Goku-Jyun Light Lotion. It's almost like water when you pour it on your hands but it leaves your skin feeling so bouncy and smooth.
Watsons
6. Essence/Toner: Pyunkang Yul Essence Toner
The Pyunkang Yul Essence Toner is from a brand that's main focus is a product's medicinal properties. They don't add any harsh chemicals, ingredients, or even fragrance making each item in their line soft and gentle while being highly effective for the skin.
Eric Kim of Pyunkang Yul mentioned that while most brands include 60 different ingredients in their products, Pyunkang Yul only uses ten.

Amazon
7. Serum: CosRx Triple C Lightning Liquid
To get rid of all the dark spots or hyper-pigmentation, we recommend trying out the CosRx Triple C Lightning Liquid. It's a Vitamin C serum that immediately lightens brown spots on the skin, and even takes care of acne scarring. If you're out in the sun a lot, this can also help with lightening sun spots.
Think of it as when grown-ups would tell us to put calamansi juice all over dark elbows and knees to lighten the complexion. But the problem with such an acidic product is that it's bound to dry the skin up and that's not what we want for glass skin.
While this serum also helps in balancing and brightening up the skin through its Vitamin C component, it also contains a 'special ingredient' that 'stabilizes the high concentration of vitamin C' so you won't have to worry about flaking or aggressively moisturizing right after.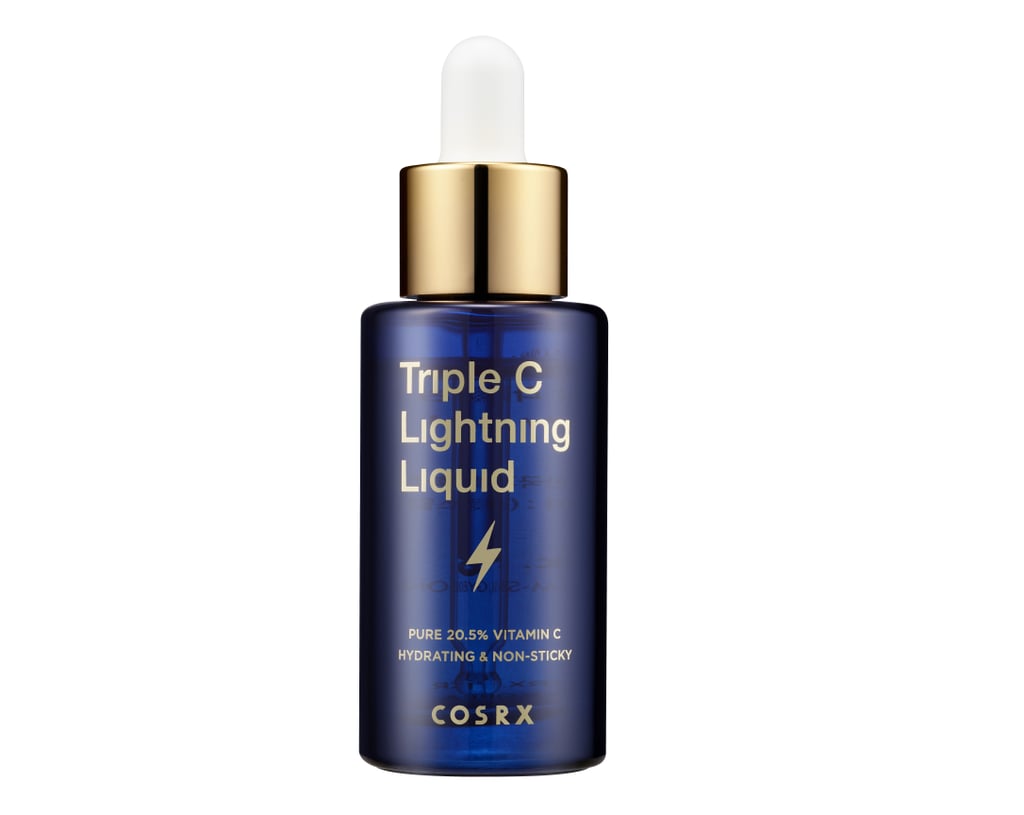 Popsugar AU
8. Booster: Glow Recipe Watermelon Glow Moisturizer
The hype is real. This Glow Recipe Watermelon Glow Moisturizer doubles as a booster and a moisturizer for your skin. Watermelon is rich in anti-oxidants which prompted Glow Recipe to turn it into a gentle and effective skincare product. Whether you have oily, combination, or dry skin, this product won't clog the pores because of its special oil-free formula.
Glow Recipe
9. Moisturizer: Cetaphil Moisturizing Cream
I like to finish my nighttime routine with the Cetaphil Moisturizing Cream. I highly recommend this to those with very dry skin because the thick texture of the product just smoothens things out in one swipe. It doesn't quite set, which can be a make-or-break factor for those who don't like the lotion-feeling on their skin, but for me it's fine since it's the last skincare step anyway before I sleep.
To maintain the bouncy look on her already glowy glass skin, Ellie Choi also uses this Cetaphil cream during her daily skincare routine. And if you really don't like the feeling on your face, you can use this to treat dry spots on your body too.
Qoo10
10. Sunscreen: Supergoop Healthy Glow Sunless Tan Broad Spectrum Sunscreen SPF 40
Since we want to prevent any more harm to the skin, always apply sunscreen before heading out. And don't forget the whole body too! One of the best ones we found is this brand called Supergoop. It's a light spray-on sunscreen that kind of gives you a nice sunkissed glow, but not too much that will make you look burnt.
And if you don't like the sunscreen smell, you're in luck with this one! The Supergoop Healthy Glow Sunless Tan Sunscreen only has a slight sweet smell to it. This one also isn't thick so you won't have to worry about feeling slippery and icky all day long, nothing to hinder you from enjoying your fresh dewy glass skin look.
Sephora