10 Pink Drinks You Can Get Here in the Philippines
It seems like the pink drink trend isn't over just yet. Here's a list of Instagram-worthy pink drinks you can get here in the Philippines. And yes, we've included some Starbucks secret recipes here too.
1. BLK 513 Pink Drink
What is it? Fresh Strawberries, Oat Milk, Activated Charcoal
Where to buy: BLK 513 S Maison at Conrad, BGC, SM North Edsa
Like all of BLK 513's yogurt creations, their Pink Drink is made out of skim milk and activated charcoal, known to aid in digestion, cleansing, and detox. Though it's one unique sight to see, BLK 513 recommends its customers to mix the layer of activated charcoal first before drinking it. So don't forget to take lots of photos!
IMAGE BLK 513 via Facebook
2. Happy Lemon Strawberry Rock Salt & Cheese
What is it? Happy Lemon's signature Strawberry Milk Tea, Strawberry Pulp, topped with Rock Salt & Cheese
Where to buy: Happy Lemon Philippines branches nationwide
We saw a video earlier this week of cheese-topped drinks trending in the US that people would line up 5 hours just to get a sip of this! Happy Lemon's Rock Salt & Cheese (RSC) drinks have been in the Philippines for years already but this year, they decided to release two new flavors – Strawberry RSC (Front right) and Matcha RSC (Front left).
The Strawberry RSC was so creamy and tasty, complete with fresh strawberry pulp you'll taste in every sip. This pink drink is definitely a must try this summer season.

IMAGE Happy Lemon Philippines via Facebook
3. 80 Queens Pink Drink
What is it? Hibiscus Tea, Fresh Strawberries, Oat Milk
Where to buy: 80 Queens Eastwood City
80 Queens was one of the first to release an actual on-the-menu Pink Drink here in the Philippines. Rather than the Acai Green Tea that Starbucks USA uses for their pink drink, 80 Queens' uses hibiscus tea. It's an herbal tea known for its natural red pigment and fruity flavor. Top it with oat milk and fresh strawberries and you'll be coming back for this pink drink over and over again.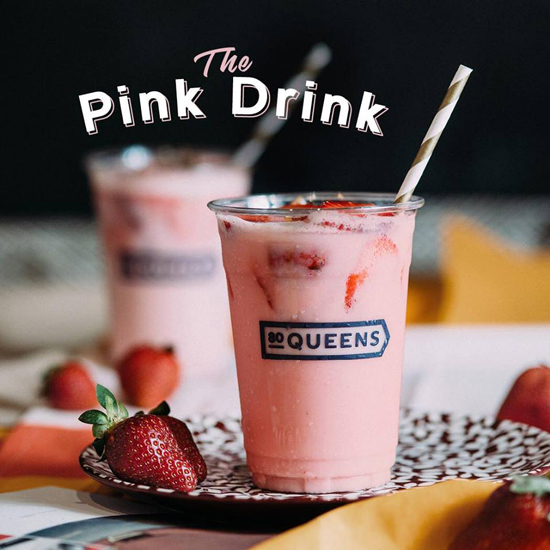 IMAGE 80 Queens via Facebook
4. Starbucks Philippines Pink Drink Hack
What is it? Iced/Chilled milk, Raspberry Syrup, Vanilla Syrup, Caramel Drizzle on the sides of the cup
Where to buy: Starbucks Philippines branches nationwide
Of course, we didn't miss out on Pamela Swing's drink. YouTuber Pamela Swing made her own version of the Starbucks Pink drink using Starbucks Philippines' syrup menu. She's a sweet tooth, so when she went to Starbucks to ask for milk and some vanilla and caramel syrup, her barista recommended she add one more syrup to make that iconic pink color. The secret? Raspberry syrup.
We're a little scared of how much syrup is going in that drink though.
IMAGE Screencap via Pamela Swings YouTube
5. Serenitea Strawberry Cheese Frost
What is it? Serenitea Strawberry Milk Tea, topped with Cheese Mousse
Where to buy: Serenitea branches nationwide
For Valentine's Day 2018, Serenitea Philippines released two pink Frost drinks. Though we had our eyes on the chocolate-strawberry combo right away, we have to give the spotlight to the Strawberry Cheese Frost drink on this list.
Contrary to what the poster implies, it's not going to taste like fresh roses. In fact, this pink drink is your favorite Serenitea Strawberry Milk Tea but now topped with their creamy cheese mousse that's unlike any other. On your next Serenitea visit, bring a friend so you can try both drinks!
IMAGE Serenitea via Facebook
6. Moonleaf Strawberry Soju
What is it? Moonleaf Strawberry Milk Tea, Soju
Where to buy: Moonleaf releases this drink during their big events. Announcements for events are made through Moonleaf Tea Shop's Facebook page.
It's your favorite Strawberry Milk Tea but with a kick. Moonleaf brings out their spiked drinks during big events and new Moonleaf branch openings. It pays to stalk their social media! Otherwise, you can just get their usual Strawberry Milk Tea. It's pink too, don't worry.
IMAGE Moonleaf Tea Shop via Instagram
7. Starbucks Philippines Pink Drink Macchiato
What is it? Starbucks Caramel Macchiato, substitute vanilla syrup with raspberry syrup
Where to buy: Starbucks Philippines branches nationwide
Here's another Starbucks Philippines secret recipe for you to try. Instead of your usual basic Caramel Macchiato, ask your barista to omit the vanilla syrup and substitute raspberry syrup instead. It's a caffeinated pink drink you can get anywhere there's a Starbucks. And it's a simple recipe so you won't get that tired and sad look on your barista's eyes silently pleading you to change your order.
IMAGE Starbucks Singapore Website
8. Jamba Juice Protein Berry Workout
What is it? Soy milk, Strawberries, Bananas, 20g of Soy Protein or Whey Protein
Where to buy: Jamba Juice branches nationwide
Jamba Juice's Protein Berry Workout is my personal go-to post-workout drink. It's a fruity gluten-free, preservative-free smoothie packed with 20g of protein to aid in repairing those muscles right away. Plus I'm a total sweet tooth so this one's winner to me any day of the week.
IMAGE Jamba Juice Website
9. Chatime Strawberry Au Lait with Pudding
What is it? Strawberry Smoothie with Milk, Egg Pudding Topping
Where to buy: Chatime branches nationwide
Upgradde your usual Chatime Strawberry Au Lait by topping it with their silky egg pudding. It gives a new flavor to the drink plus it looks great on photos! This smoothie is a great refresher after a whole day under the hot summer sun.
IMAGE Chatime Philippines via Facebook
10. Moonleaf Thai Pink Milk or Nom Yen (2018)
What is it? "A special Thai drink made from salak fruit syrup which gives it a tinge of rose-like sweetness and fresh milk."
Where to buy: Moonleaf branches nationwide
This might just be the pink drink of the year. Moonleaf's new Thai Pink Milk is made out of sweet Salak fruit syrup, an ingredient known for its tangy and floral taste. The Nom Yen is a popular beverage in Thailand because of its refreshing and unique rosy taste that you won't get anywhere else. Now you can taste it for yourself at a Moonleaf branch nearest you! And look at that vibrant pink color!